Posts for tag: Dental Care
By Upper East Smiles
November 24, 2020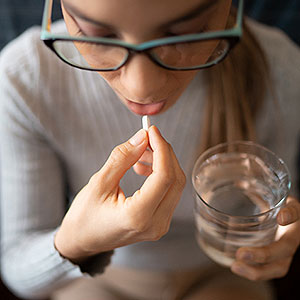 Undergoing dental work is for the most part a pain-free affair. But once you're home and the anesthetic begins to wear off, you may have some discomfort.
Fortunately, most post-procedure pain can be managed with non-steroidal anti-inflammatory drugs or NSAIDs. And while stronger versions of these pain relievers can be prescribed, you may only need one sold over-the-counter.
NSAIDs like ibuprofen or acetaminophen work by inhibiting the release of prostaglandins, substances that stimulate inflammation in traumatized or injured tissues. It differs in this way from the two other primary pain medications: Steroids act like natural hormones that alleviate physical stress in the tissues; and narcotics like morphine or codeine suppress the brain's reaction to nerve firings.
While these stronger types are effective for stopping pain, they can have several serious side effects. Narcotics in particular can be addictive. Although they may be necessary in serious cases of acute pain, most dentists turn to non-addictive NSAIDs first, which are usually effective with the kind of discomfort associated with dental work and with fewer side effects.
That's not to say, however, that NSAIDs are risk-free—they must be taken properly or you could suffer serious health consequences. For one, NSAIDs have a blood-thinning effect that's even more pronounced when taken consistently over a period of weeks. This can lead to bleeding that is difficult to stop and erosion of the stomach lining leading to ulcers. Prolonged use can also damage the kidneys.
As a rule of thumb, adults shouldn't take more than 2400 milligrams of ibuprofen or other NSAIDs in a day, unless otherwise directed by their doctor. For most, a 400-milligram oral dose taken with food (to minimize stomach upset) is usually sufficient to relieve pain for around five hours.
You'll usually avoid unwanted health effects by keeping within your dentist's recommended doses and taking an NSAID for only a few days. Taking an NSAID properly can help keep your discomfort to a minimum after dental work without the need for stronger drugs.
If you would like more information on managing dental pain, please contact us or schedule an appointment for a consultation. You can also learn more about this topic by reading the Dear Doctor magazine article "Treating Pain With Ibuprofen."
By Upper East Smiles
May 27, 2020
Follow this helpful advice to keep your smile healthy with braces.
Just because you have braces doesn't mean that you can let your dental hygiene fall by the wayside. In fact, your oral care practices are now more important than ever to keep your teeth healthy and free from decay once our Upper East Side, NY orthodontist and dental team have placed your braces.
Here are some useful tips for keeping your smile in tip-top shape while wearing braces,
Take Your Time
When it comes to brushing and flossing your teeth it's important to be patient, as these habits will take a little more time now that you have braces. If you are currently looking for a toothbrush that can offer an ultimate clean opt for a regular soft-bristled toothbrush, or use an orthodontic toothbrush, which has v-shaped bristles to make it easier to remove plaque from between teeth and braces.
Brush After Eating
Once you get braces our orthodontist here in the Upper East Side wants to make sure that you properly care for your smile to keep your teeth and gums healthy. One way to do this is to brush your teeth after every meal. You should also limit snacks, as snacking throughout the day can increase plaque buildup. Make sure to bring a travel toothbrush with you so you can brush your teeth even on the go.
Floss Every Day
You may think that wearing braces prevents you from needing to floss your teeth but think again. Flossing is just as important for removing plaque and food from between teeth and the gum line. While traditional floss may not be the best way to clean around your braces, threader floss is perfect for patients with braces. Still not sure how to floss with braces? Follow these helpful tips!
Visit Your Dentist Regularly
Throughout the course of your treatment you will need to come into our Upper East Side, NY, office every four weeks so that our orthodontist can follow-up with you and make sure that your treatment is going according to plan. We will also take this time to make sure that you are keeping your teeth clean while wearing braces and offer up any advice or suggestions for how to improve your oral care routine.
Our orthodontists and team of dental experts at Upper East Smiles in Upper East Side, NY, is here to provide children, teens and adults with the orthodontic treatment they need for beautiful, healthier smiles. If you have questions about braces or any of the services we offer, give us a call today at (646) 864-1808.