Posts for tag: root canal treatment
By Upper East Smiles
June 27, 2020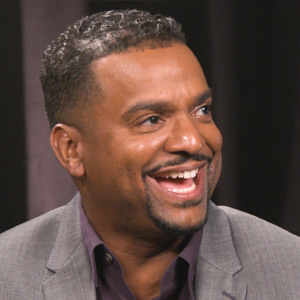 As the host of America's Funniest Home Videos on ABC TV, Alfonso Ribeiro has witnessed plenty of unintentional physical comedy…or, as he puts it in an interview with Dear Doctor–Dentistry & Oral Health magazine, "When people do stuff and you're like, 'Dude, you just hurt yourself for no reason!'" So when he had his own dental dilemma, Alfonso was determined not to let it turn onto an "epic fail."
The television personality was in his thirties when a painful tooth infection flared up. Instead of ignoring the problem, he took care of it by visiting his dentist, who recommended a root canal procedure. "It's not like you wake up and go, 'Yay, I'm going to have my root canal today!'" he joked. "But once it's done, you couldn't be happier because the pain is gone and you're just smiling because you're no longer in pain!"
Alfonso's experience echoes that of many other people. The root canal procedure is designed to save an infected tooth that otherwise would probably be lost. The infection may start when harmful bacteria from the mouth create a small hole (called a cavity) in the tooth's surface. If left untreated, the decay bacteria continue to eat away at the tooth's structure. Eventually, they can reach the soft pulp tissue, which extends through branching spaces deep inside the tooth called root canals.
Once infection gets a foothold there, it's time for root canal treatment! In this procedure, the area is first numbed; next, a small hole is made in the tooth to give access to the pulp, which contains nerves and blood vessels. The diseased tissue is then carefully removed with tiny instruments, and the canals are disinfected to prevent bacteria from spreading. Finally, the tooth is sealed up to prevent re-infection. Following treatment, a crown (cap) is usually required to restore the tooth's full function and appearance.
Root canal treatment sometimes gets a bad rap from people who are unfamiliar with it, or have come across misinformation on the internet. The truth is, a root canal doesn't cause pain: It relieves pain! The alternatives—having the tooth pulled or leaving the infection untreated—are often much worse.
Having a tooth extracted and replaced can be costly and time consuming…yet a missing tooth that isn't replaced can cause problems for your oral health, nutrition and self-esteem. And an untreated infection doesn't just go away on its own—it continues to smolder in your body, potentially causing serious problems. So if you need a root canal, don't delay!
If you would like additional information on root canal treatment, please contact us or schedule a consultation. You can learn more by reading the Dear Doctor magazine articles "A Step-By-Step Guide to Root Canal Treatment" and "Root Canal Treatment: What You Need to Know."
By Upper East Smiles
June 07, 2020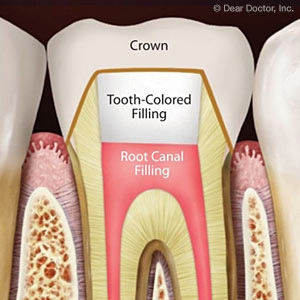 You might be a bit apprehensive if your dentist recommends a root canal treatment, especially if it's your first. That's understandable: Popular culture has portrayed the root canal as an unpleasant experience.
But as a routine dental procedure, root canal treatments have been responsible for saving millions of decayed teeth. And, with local anesthesia, the procedure is painless. In fact, a root canal treatment stops pain that often results from advanced tooth decay.
So, let's take the mystery out of the root canal. Here's the 411 on this vital but often misunderstood dental procedure.
Why the name "root canal"? The terms for the procedure—root canal therapy, root canal treatment or simply "root canal"—arise from one of the principal parts of the tooth involved, root canals. These are tiny passageways that lead from the tooth's innermost layer, the pulp, to the tooth roots. While treatment often focuses on decay or diseased tissue within the pulp, the root canals can be infected too and must be included in the later filling process.
Who can perform a root canal? All general dentists are trained in basic root canal procedures. Depending on your tooth's condition, your family dentist may be able to perform it. But if your tooth has an intricate root canal network or some other complication, you may need an endodontist, a specialist in interior tooth and root treatments. Endodontists can perform advanced root canal techniques and have the specialized equipment to handle intricate cases.
What happens during a root canal? Although details may vary depending on the type of tooth and extent of decay, there's a basic process for all root canal procedures. After numbing the tooth and surrounding tissues, the dentist drills into the tooth to access the inner pulp chamber and root canals, then removes the diseased tissue and disinfects the empty chamber and canals. After preparing the canals, the dentist then fills the empty spaces. This, and subsequent sealing and crowning, protects the tooth from future decay.
After the procedure you may have some minor soreness for a few days, which is usually manageable with mild pain relievers like ibuprofen or acetaminophen. This discomfort will diminish with time, and your tooth will have a new lease on life.
If you would like more information on root canal treatment, please contact us or schedule an appointment for a consultation. You can also learn more about this topic by reading the Dear Doctor magazine article "Root Canal Treatment."
By Upper East Smiles
April 12, 2017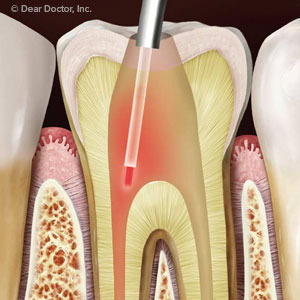 As in other parts of medicine, lasers are beginning to change the way we provide dental care. More and more dentists are using lasers to make earlier diagnoses of dental disease or provide surgical treatment. One area prime for change is the treatment of teeth with deep decay and in danger of being lost.
For decades now, the best way to save teeth in this condition is with root canal treatment. In this common procedure we access the pulp, remove the infected tissue with specialized hand instruments, and then fill and seal the pulp chamber and root canals with a special filling.
We can now potentially improve the efficiency and increase the success rate of this treatment with laser technology. With their focused light, lasers emit a concentrated burst of energy that's extremely precise. In many instances laser energy can remove the target diseased tissue without damaging nearby healthy tissue.
In this form of root canal treatment, we use lasers to remove tissue and organic debris within the pulp and then shape the root canal walls to better receive the filling. We can also utilize the heat from laser energy to soften and mold the filling, so that it better conforms within the walls of the root canals.
Using lasers in root canal treatments may require less local anesthesia than the traditional approach and also eliminates disturbing or discomforting sounds and vibrations. Dentists who've used the new technology also report less bleeding during the procedure and less pain and occurrences of infection afterwards.
But there are a couple of disadvantages for using lasers in root canal treatment. For one, light travels in a straight line — and many root canal networks are anything but straight. More complex root canal networks may still require the traditional approach. Laser energy could also increase the tooth's inner temperature, which could potentially damage tissues even on the tooth's outer surfaces.
Used in the right circumstances, though, lasers can be an effective means to treat diseased teeth. Â As laser technology continues to advance and becomes a mainstay in dental care, you may soon find it part of your next dental procedure.
If you would like more information on root canal treatments, please contact us or schedule an appointment for a consultation.